I've been keeping some news "under my hat" for a few weeks. After 8 years teaching 6th grade in our middle school - I found out that I'll be teaching 5th grade next year at the elementary school!
There was a sudden opportunity at precisely the grade I wanted at exactly the school I was hoping for, so I
jumped
on it. I have really loved being a 6th grade teacher and guiding my students through such monumental changes - switching classes, remembering locker combination, dealing with hormones and drama.....
However, I am
really
excited about the opportunity to practice teaching in the environment where I always envisioned myself - with a single set of students and a chance to put my own personal stamp on our classroom.
Sooooo.......since Diary of a
Sixth
Grade Teacher clearly isn't going to work anymore, I hope that you'll join me on my new site. (And for all my fabulous 6th grade follower friends - I still have TONS of great resources and information to share about the last 8 years of my teaching experience, so there will be lots there for you!)
Please stop by and check out the new digs!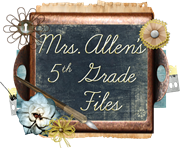 See you there!
P.S. - A special thank you to Misty and Erika from the Honey Bunch Blog Design for dealing with my anxiousness over the name change and making the transition to the new site as smooth as possible. I am forever grateful!